Environmental chambers are crucial equipment in modern industries, used to simulate various extreme conditions and evaluate the performance and reliability of products under those conditions. With the widespread application of environmental chambers in multiple industries, there are numerous manufacturers in the market offering a wide range of types and specifications. In this article, we will introduce the top ten global environmental chamber manufacturers, renowned for their exceptional technology, innovative solutions, and high-quality products. Whether in the automotive industry, aerospace sector, electronics field, or other industries, these manufacturers provide reliable environmental chambers to customers, helping them ensure product quality and reliability to meet market demands.
This article aims to provide readers with a comprehensive understanding of these top-tier environmental chamber manufacturers. We will delve into each manufacturer's background and company profile, including their experience and expertise in the field of environmental chamber manufacturing. Additionally, we will highlight their product portfolio, technological innovations, and quality control measures.
Most of the products that shape our lives have been manufactured or tested with testing equipment supplied by several top environmental chamber manufacturers. Want to buy environmental chambers? In this article, we list some of leading environmental chamber manufacturers.
ESPEC environmental chamber manufacturer

ESPEC is the world's leading manufacturer of environmental test chambers that support the advancement of cutting-edge technologies. Through the sales network that extends to 45 countries worldwide, they provide high-quality products and services to customers around the world. With pre-engineered and custom solutions, they provide total solutions for environmental testing through various products and services, all from the customer's perspective.
Main products: Environmental test chambers, secondary battery-related equipment, measurement & evaluation systems, and semiconductor-related equipment.
OTS Test Equipment
OTS Test Equipment is a leading global provider of high-quality testing solutions for various industries. With a diverse range of cutting-edge equipment and comprehensive services, we strive to meet the evolving needs of our clients and deliver accurate and reliable results.
Our commitment to innovation drives us to develop state-of-the-art testing instruments that enable businesses to enhance product performance, ensure compliance with industry standards, and optimize overall efficiency. Our extensive product portfolio includes:
Environmental Test Chambers:

Temperature and humidity chambers
Thermal shock chambers
Altitude chambers
Vibration test chambers

Mechanical Test Systems:

Universal testing machines
Tensile testing machines
Compression testing machines
Fatigue testing machines

Material Testing Equipment:

Hardness testers
Impact testers
Abrasion testers
Rheometers
With a global presence and a strong network of distributors, we are dedicated to serving our customers worldwide. We work closely with industries such as automotive, aerospace, electronics, pharmaceuticals, and more to provide tailored solutions that address their specific testing requirements.
Russells walk-in environmental chamber supplier
Since 1972, Russells Tech, manufacturer of custom environmental chambers and standard environmental chambers, retrofitted environmental and test equipment for laboratory, product testing, and manufacturing testing applications. Specializing in environmental simulation equipment, ess, walk-in chambers, altitude chambers, altitude simulation, temperature chambers, temperature and humidity chambers, humidity chambers, stability chambers, temperature cycling, humidity simulation, humidity control systems, thermal test chambers, solar panel test chambers, thermal shock, climatic/climate chambers, vibration test chambers, drive-in and dynamometer (dyno) chambers, scientific incubators, cell culture incubators, explosion-proof chambers, laboratory test chambers, EMC test systems, environment test rooms, stability rooms, liquid nitrogen freezers, super cold freezers, ultra-cold freezers, low-temperature freezers, industrial freezers, lab freezers, cryogenic (cryo) freezers.
Thermal Product Solutions (TPS)
From industrial ovens, furnaces, pharmaceutical sterilizers, and laboratory ovens to environmental test chambers and stability test chambers, TPS company provides thermal processing and test solutions for a range of industries. These industries include aerospace, defense, electronics, biotech, medical, commercial heat treating, pharmaceutical, lab animal science, communications, energy, transportation, die casting, agriculture, and materials processing. To learn more about the performance, capabilities, and dimensions of their chambers, you may also communicate with one of their sales representatives.
Chiuvention Climate Chamber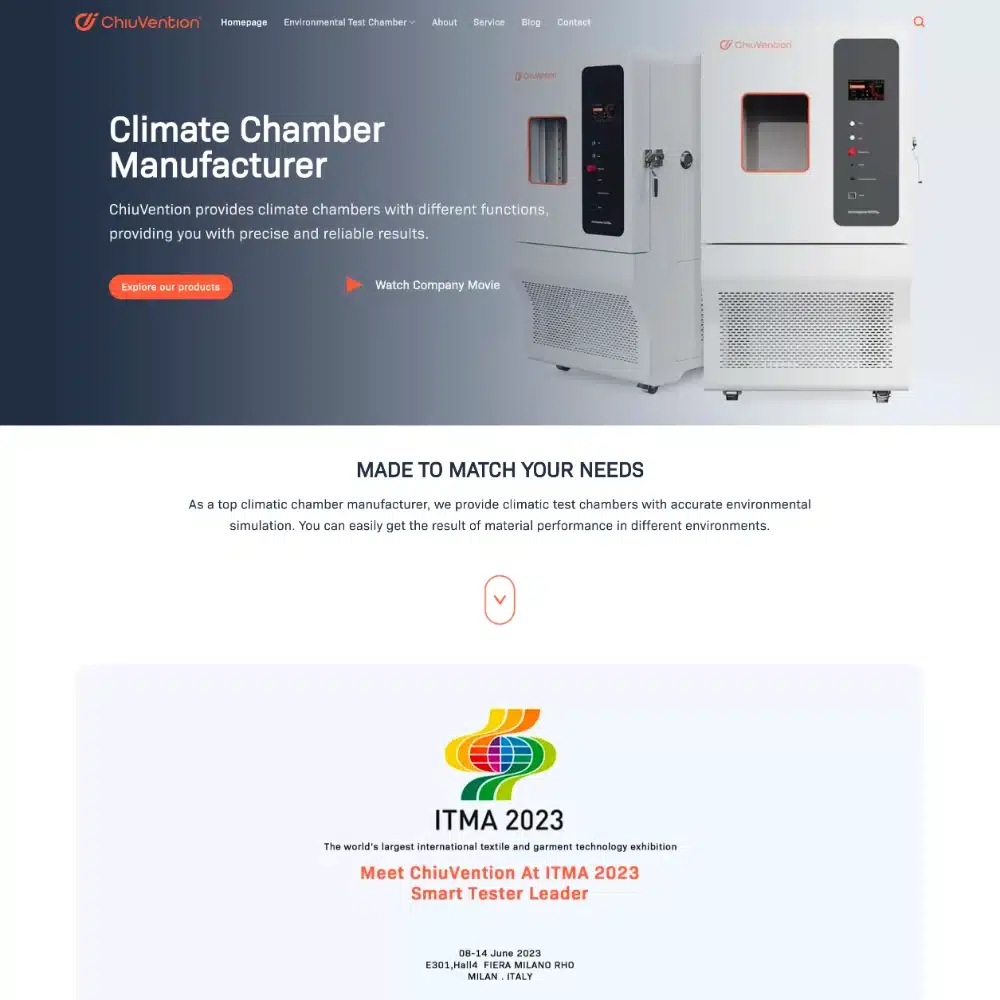 Chiuvention offers a range of environmental test chambers, including:
Ultra-low temperature chambers
Ultra-high temperature chambers
Stability chambers
Humidity chambers
Thermal shock chambers
Altitude chambers
These test chambers are designed to simulate extreme environmental conditions for accurate and reliable testing of products across industries.
CSZ Industrial test chamber suppliers
CSZ environmental chambers can aid reliability testing by subjecting products to real-world climate and wear extremes like temperature, humidity, altitude, vibration, and more.  They have been assisting manufacturing organizations with their environmental test chamber needs since 1940.
CSZ offers a full range of standard and custom-designed environmental chambers providing our customers with solutions to meet their most demanding environmental testing requirements. Take a moment to watch a brief overview video on the many products that are manufactured or tested in a TPS piece of equipment.
Hastest Environmental Test Chamber Manufacturer
Hastest Solutions is founded by technically qualified individuals with rich experience in the niche' of highly accelerated testing products and materials. It has built a reputation for providing testing chambers with a degree of sophistication. Reliability and operational safety that very few can match, in the area of SOLAR products as well as a whole host of products for a wide spectrum of global industries, such as Semiconductors, Automotive, Glass, Military & Defense, Wood, Plastics, Rubber, Ceramics, Paints, Aerospace, Batteries, MEMS, Paper, Biotech & Medical, etc…Hastest Solutions is the fastest growing provider of high-quality solutions in the field of reliability testing. The company is committed to providing solutions that are accurate, and impartial and that empower quality-conscious manufacturers with an edge over other environmental chamber manufacturers.
Guangdong Bell Environmental Chamber Supplier

Guangdong Bell test chamber supplier was established in 2005 in Dongguan City of China, their plant covers an area of 20,000 square meters. As Bell attaches great importance to producing first-rate environmental test chambers, talents are highly valued. They provide excellent equipment and service to satisfy various customers, especially the customized non-standard environmental test chambers. Currently, after great efforts over the last 14 years, their annual production capacity has reached RMB 120 million.
Main products: Temperature Humidity Chambers, Thermal Shock Chambers, Walk-in Test Chambers, Altitude Test Chambers.
Weiss Tech Humidity Chamber Supplier
Weiss Technik is a global leading company of environmental test chambers. Their advanced technology Converto, LEEF, and WebSeason offer test chamber flexibility, efficiency, and connectivity that assures your testing procedures are future-proof. They provide you with testing chambers that fits your exact testing requirement. Our chambers can simulate many environments including temperature, humidity, thermal shock, environmental stress screening, AGREE, vibration, altitude, space simulation, corrosion, solar, spray and splash, UV, dust, emissions, EMC, and more. Our complete test chamber offering includes benchtop, reach-ins, walk-in, drive-in, battery, photovoltaic, explosion-resistant, fast change rate, SHED, VOC, noxious gas, vacuum, plant growth, clean rooms, microwave systems, thermal cycling, remote conditioning units, and others. With our global service, Weiss Technik provides all the technical support, factory-trained service engineers, and replacement parts to keep your test chambers running at peak efficiency.
Environmental Test Chamber Types
Humidity Test chamber
A humidity chamber can perform two functions: humidification and dehumidification.
lectric humidifier injects steam air flow to provide humidification.